ORC researchers receive financial support from 'Kom op tegen Kanker' (Dec 2017)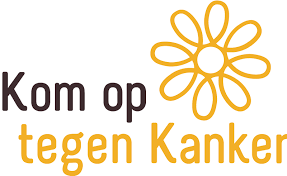 'Kom op tegen Kanker' is a socially committed organization that operates on several fronts in the fight against cancer. In 2017, 'Kom op tegen Kanker' invests 12 million euro from the research fund in patient-oriented cancer research. The money was raised by legacies, 1000 km for 'Kom op tegen Kanker' and 'Loop naar de Maan'. ORC researchers also received funding at the official award ceremony on 17 December 2017 at the Ancienne Belgique in Brussels. The selected projects from ORC researchers are:
Research projects:
Metabolic screening of liquid biopsies of multiple myeloma patients to find new biomarkers and therapeutic targets – 251.000 € – Prof. Dr. Eline Menu
The role of circulating tumor cells and circulating tumor-DNA as biomarkers in blood samples of multiple myeloma patients – 367.000 € – Prof. Dr. Ivan Van Riet
An explorative phase 2-study with atafinib for the treatment of advanced cancers with EGFR-, HER2- or HER3-mutation – 510.750 € – Prof. Dr. Jacques De Grève
The follow-up of puberty development and fertility in boys who stored testicular tissue before the start of cancer therapy -257.593 € – Prof. Dr. Ellen Goossens
Emmanuel Van Der Schueren projects:
Gil Awada – 'BRAF/MEK inhibitor rechallenge' in combination with the autophagy inhibitor hydroxychloroquine in patients with metastatic BRAF V600 mutant melanoma – Promotor: Prof. Dr. Bart Neyns
Lien De Beck – Investigating the immunomodulating properties of epigenetic modulating agents in multiple myeloma and melanoma – Promotor: Prof. Dr. Karin Vanderkerken
Inès Dufait – Development of a platform to develop agents specific for regulatory myeloid cells – Promotor: Prof. Dr. Karine Breckpot
Hui Wang – Tumor radio-immunotherapy is enhanced by the anti-rheumatoid drug auranofin in combination with the IL-2/S4B6 immunocomplex – Promotor: Prof. Dr. Mark De Ridder
Prof. Eline Menu and Prof. Elke De Bruyne received an American Brian D. Novis Research Award from the International Myeloma Foundation in Atlanta for their research on multiple myeloma (Dec 2017)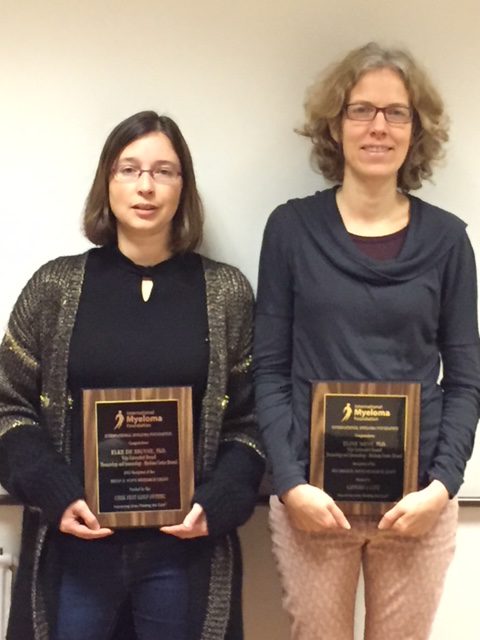 In 1995 the International Myeloma Foundation (IMF) started the Brian D. Novis Research Grant program in memory of its co-founder. The IMF awards prizes every year to stimulate research on myeloma and thus improve the chances of patients. To this day, the IMF has supported more than 100 promising projects, including that of Professor Eline Menu and Professor Elke De Bruyne. They received their award in Atlanta during the annual American Society of Hematology (ASH) meeting.
Multiple myeloma (MM) is a cancer characterized by uncontrolled growth of plasma cells in the bone marrow. In recent years, enormous progress has been made in the treatment of MM patients, partly due to the development of new drugs. Yet most patients relapse due to the presence of residual cancer cells after an effective first treatment.
An important characteristic of multiple myeloma (MM) is the genomic instability, which leads to genetic defects, drug resistance and progression of the cancer. The IMF awarded Professor Elke De Bruyne a Brian D. Novis Research Junior Grant for her research on the role of protein arginine methyltransferase 5 (PRMT5) in MM biology, genomic instability and drug response.
Another cause of relapse is the interaction between the MM cells and the bone marrow environment in which they nest. Professor Eline Menu received a Brian D. Novis Senior Award for her research into the metabolic interaction between the MM cells and their environment.
Poster award for Eva de Smedt on the Annual Belgian Hematology Society meeting (10-11 jan, 2017)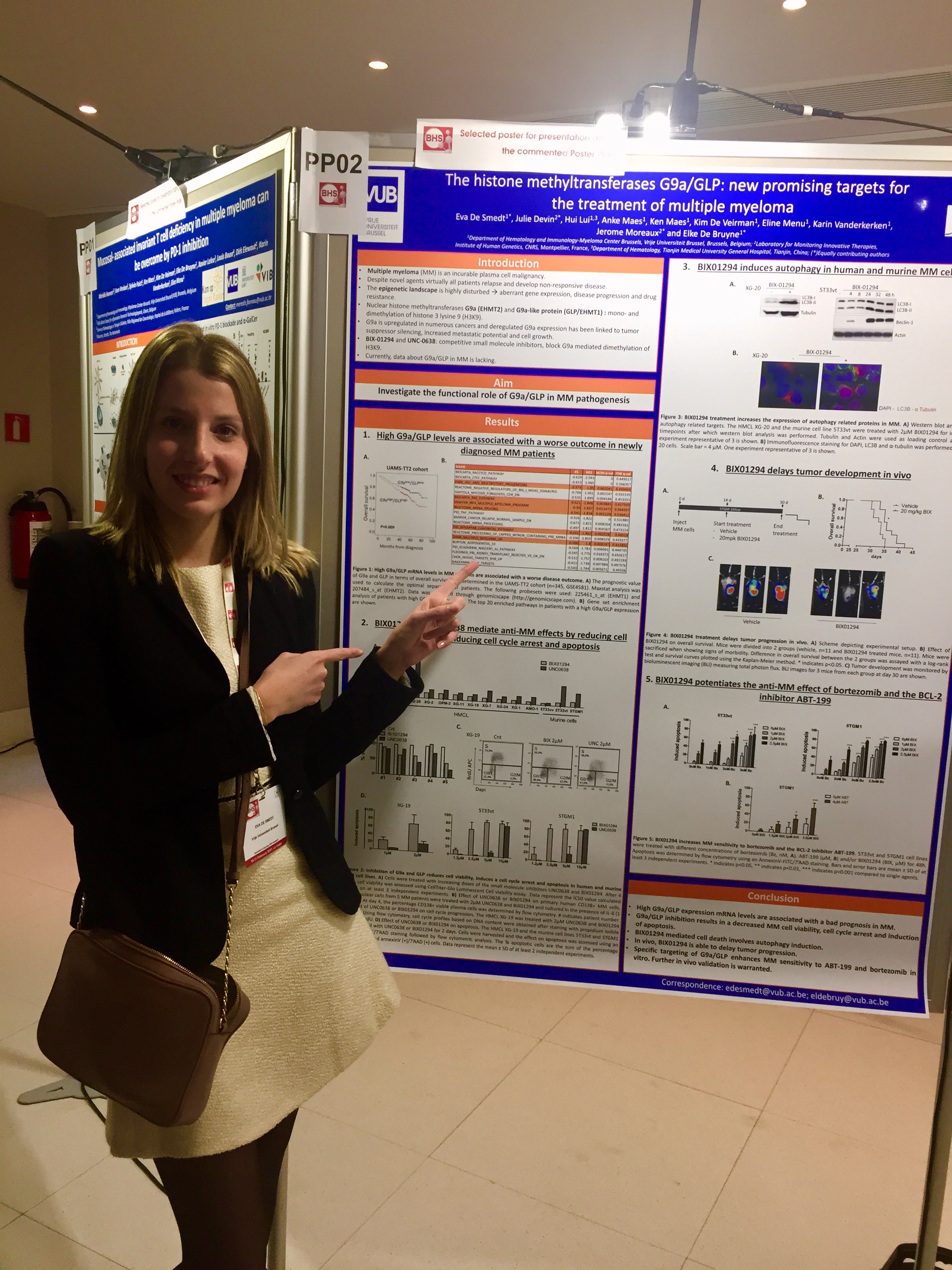 During the last BHS meeting, Eva de Smedt has received an award for her poster presentation "The histone methyltransferases G9A / GLP: new promising targets for the treatment of multiple myeloma ". Eva De Smedt is a PhD student in the laboratory Hematology and Immunology (HEIM) at the Faculty of Medicine and Pharmacy under promotership of Prof. Karin Vanderkerken en Prof. Elke De Bruyne.