Poster award for Eva de Smedt on the Annual Belgian Hematology Society meeting (10-11 jan, 2017)


During the last BHS meeting, Eva de Smedt has received an award for her poster presentation "The histone methyltransferases G9A / GLP: new promising targets for the treatment of multiple myeloma ". Eva De Smedt is a PhD student in the laboratory Hematology and Immunology (HEIM) at the Faculty of Medicine and Pharmacy under promotership of Prof. Karin Vanderkerken en Prof. Elke De Bruyne
Prijs Kankeronderzoek. Award Ceremony 26/10/2016
On October 26th  2016 during the fifth edition of the ORC day, the award ceremony of the "Prijs Kankeronderzoek" took place. Six PhD students were selected for a starter scholarship or finishing scholarship with their project that is involved into various disciplines of cancer research. The candidates are Yannick De Vaeminck (LMCT, Molecular and cellular therapy, VUB), Sarah Melhaoui (LMCT), Sven de Mey (TROP, Translational Radiation Oncology, supportive care and Physics, VUB), Rajendra Bahadur Shahi (LMMO, Medical and Molecular Oncology, UZ Brussel) Amir Noeparast (LMMO) and Pieterjan Debie (ICMI, In Vivo Cellular and Molecular Imaging Center,VUB ).
The prize from the VUB was donated by the Oncology Research Centre (ORC) and supported by the legacies Noë en De Smedt.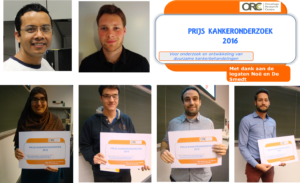 Poster award for Liesbeth

Bieghs on Belgian Hematological Society 01/30/2013
At the 28th Annual General Meeting of the Belgian Hematological Society (Ghent, 24th to 26th of January 2013), received Liesbeth Bieghs an award for her poster presentation titled "The IGF-1 receptor inhibitor picropodophyll
in (PPP) potentiates the anti-myeloma effects of the BH3 mimetic ABT-737 ". Liesbeth Bieghs is a PhD student in
the laboratory of Hematology of the Faculty of Medicine and Pharmacy under promotership of Prof. Karin Vanderkerken and Elke De Bruyne.
 

Two awards for young researchers of the Faculty of Medicine and Pharmacy
 On 8 December 2012, during the last American Society of Hematology meeting in Atlanta, USA, two y
oung researchers from the Faculty of Medicine and Pharmacy received a Junior Award (U.S. $ 50,000 each) from the International Myeloma Foundation. The two researchers are Brenda De Keersmaecker (post-doc at LMCT, promotor Kris Thielemans, right in the picture) and Els Van Valckenborgh (post-doc and 10% at ZAP HEIM, promotor Karin Vanderkerken, left in the picture).
Multiple myeloma (MM) is a cancer characterized by proliferation of malignant plasma cells in the bone marrow. To create an effective treatment against MM, it is necessary to target the minimal residual disease.
In the project of Brenda The Keersmaecker a new multiple myeloma immunotherapy strategy in vitro will be  evaluated. This new immunotherapy is based on two recent developments: the first is the introduction of lenalidomide, a drug with immune-stimulating properties and the second is multiple myeloma immunotherapy.  The MM immunotherapy can be applied to stimulate the immune system to target tumor cells.
Els Van Valckenborgh will examine how tumor cells regulate the generation, expansion and function of myeloid-derived suppressor cells (MASC).
Unraveling  these mechanisms will help us to better understand the pathogenesis of myeloma and to develop new therapies to improve the quality of life of the patients.